Our founder
Nick DellaCamera
Owner
"Making Fitness Work for the City that Works"
Nick and his team specialize in optimizing the health and performance of driven professionals. With over 80 years of experience in "the game of strength and wellness" between them, he and his staff know what high performers require to not only break through, but sustain new levels of success. Precision. Personalization. Production. If you value efficiency and results, and want to get in the best physical and mental shape possible at this stage of your career and life while having a few laughs while you're at it, Nick and his team of elite practitioners are ready to meet you. Get in. Get out. Make the time count. Crossfit Stamford.
From about two years old until 18, Brittany was a competitive gymnast and cheerleader. Going into her first year of college she was a cheerleader. Now you can catch her most frequently with a heavy barbell in her hands. Brittany has been an athlete for most of her life, and she is now a competitive CrossFit athlete, as well as a dedicated CrossFit coach. It is has been 7 years in the community.
Brittany has Competed at Regionals 2017 as an individual and Team regionals 2018. This past year in 2021 she qualified to compete at The CrossFit games on a Team!
Education/Certifications:
• CrossFit Level 1
• CrossFit Level 2
• CPR/AED Certified
Soccer player turned CrossFit athlete. Transitioned out of soccer and walked into her first CrossFit gym back in 2013. Immediately fell in love with the learning process of a new sport and having a competitive component to her training. Eventually led to her beginning her coaching career in the gyms and hasn't looked back since.
– CrossFit L1 and L2
– Certified IIN health coach
– 2018 CrossFit Team Regional Athlete
Niko started his athletic career as a wrestler, working his way up to a top 3 California state ranking and eventually a spot on a top NCAA D1 team. While looking for a way to supplement a competitive drive after college Niko found CrossFit. After several years of competition he chose to specialize in Olympic weightlifting. During this time Niko has taught classes and seminars across the nation with various top tier weightlifting teams. Over the last 10 years of coaching Niko has developed a training philosophy of "Always move with intention".
Areas of Specialty:
– Olympic weightlifting coaching and programming
– Powerlifting coaching and programming
– Injury rehabilitation
Certifications:
– CrossFit Level 1
– USA Weightlifting Level 1
– NASM – Certified Personal Trainer
– EMT- Paramedic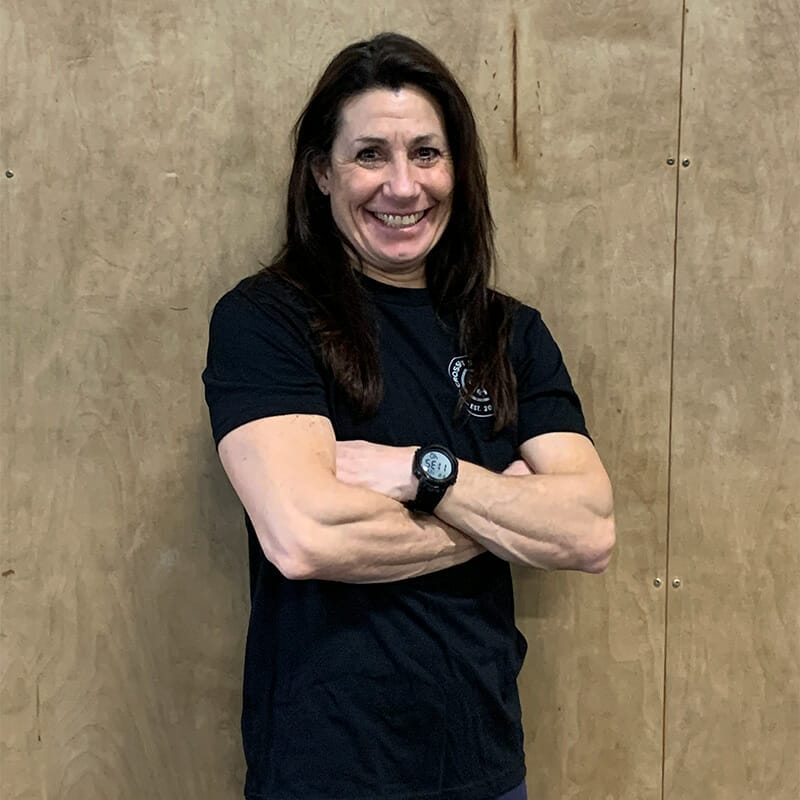 Robin has been in the fitness world for over 25 years with multiple certifications for Personal Training and Group Fitness including the ACSM AFFA and ACE. She also has her CrossFit Level 1 Certificate. She has competed in gymnastics, adventure races, full and half marathons and even CrossFit competitions. Last year she finished 74 in AGOQ in her age group!!! She has a passion for human movement and for helping people achieve their fitness goals.
Garrett has over a decade's experience as a personal trainer and has been coaching at CrossFit Stamford since 2013. He holds a CrossFit Level 2 Certificate and numerous specialty certifications including endurance, gymnastics and the competitors course. Garrett is also USA Weightlifting Certified. His current outside fitness interests include IronMan and everything swim, bike, run; however, he is always up to try anything new and challenging.
I've been a competitive athlete my whole life. First joined CFS in 2012 and started coaching in 2013. I fell in love with CrossFit due to its competitive nature while also maintaining its team effort culture. I hold a level 1 CrossFit certification and have attended many seminars regarding functional movements and nutrition. My favorite part of coaching is seeing people's smiles when they achieve a fitness goal they didn't think they could.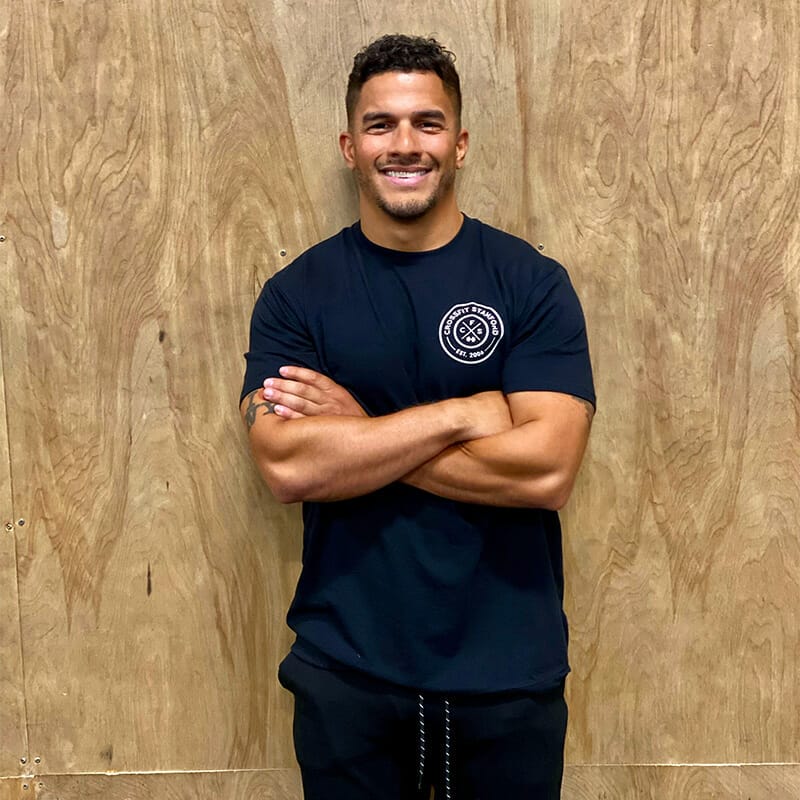 Jeremy was in the Marines from 2008-2014. From there he transitioned into personal training and coaching. He has been a coach at both Northeast Crossfit and Dynamic Athletics. Jeremy holds a CF L1 certification, NASM CPT and Kettlebell Athletic L1. He has competed in several CrossFit competitions as a team member, as well as weightlifting competitions.
Been moving since 1990, haven't stopped yet
– CF L1
– Strongman
– Aerobic Capacity
– USAW Weight lifting L1 + L2
– PPSC
– Art Education and KPE certifications
D1 and international water polo athlete and swimmer.
Get started
Click the button below to book a free intro. See if CrossFit Stamford is right for you.
Fill out the form below to get started
Take the first step towards getting the results that you want
Free Intro